The Fujifilm Developer Network connects your app to 180+ photo products in 15+ categories, like these.
Explore All
Photo Products
This is how the Fujifilm Developer Network works for you.
The Fujifilm Developer Network offers a range of easy-to-implement solutions to integrate photo product ordering within your app or website. Whether using our RESTful API or iOS and Android SDKs, you can easily control and manage workflow, sales reporting, select photo products you want to offer, set your price points and enable special offers and more.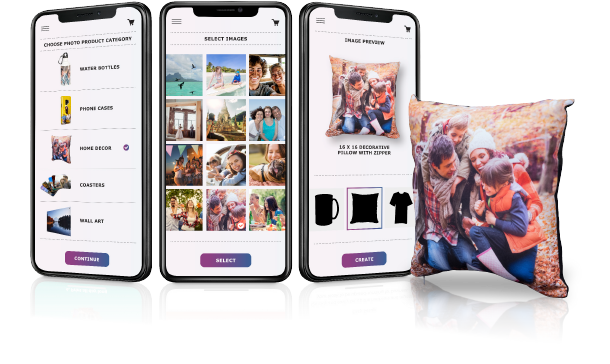 In-app
Image Creation

Share, create and save

Photo Product
Selection

You enable which products your users can order

Preview
& Edit

Scale, rotate and more

Payment
& Checkout

We offer multiple transaction types for payment

Home Delivery &
In-store Pickup*

Get the order in-hand quickly and easily
Learn More &
Get Started Now
*In-store pickup is available for select photo products at
Walmart and select CVS locations pending retailer approval.
Which is the right integration option for you?
API

Our RESTful API is a modern, stateless API with all of the web services needed to create an order, including: product catalog and pricing information, store search, file storage and order placement. The RESTful API is best suited for partners with an existing user experience or the desire for a highly customized shopping experience. The RESTful API can be used for both Web and Mobile.

SDK

Our SDK is a Fujifilm-provided User Experience built upon the RESTful API. It is a library that you can include in your existing application to enable photo product output through Fujifilm. The SDK gives you access to a subset of the most popular items in the Fujifilm Personalized Photo Products catalog. The SDK is built for iOS and Android mobile devices.
Let's get started
Reasons to work with the Fujifilm Developer Network
Quality Products

With more than 180 quality photo products and growing, you'll be offering your users trendy merchandise along with every day best sellers. It's not just quality merchandise, but the photographic technologies that imprint your users' images.

View All Products

Home Delivery or in-store pickup*

Fujifilm can distribute photo products from coast to coast and everywhere in between. Not only can orders be shipped to your customer's home or office, but you have the option to enable In-Store Pickup* to make it even easier for your customer's to pick up their photo merchandise without the cost of shipping.

Let's get started

Fujifilm start to finish. And repeat.

Every aspect of the Fujifilm Developer Network offering is done in house. From managing the SDK/API to product manufacturing, order fulfillment and shipping, the entire experience is managed solely by Fujifilm to ensure your customers are thrilled with each and every photo product they receive. Watch the video below to see our state-of-the-art Greenwood, SC manufacturing facility in action.

Watch Video
*In-store pickup is available for select photo products at
Walmart and select CVS locations pending retail approval.
Trust Fujifilm's legendary commitment to photographic excellence.
Fujifilm is photography. Through and through, Fujifilm is dedicated to every aspect of photography and provides consumers and professionals alike with the products they need to achieve photographic excellence. Because we touch everything from professional film and digital and instant print cameras to photofinishing equipment and high quality photo papers, you can do business proudly knowing that the Fujifilm Developer Network is behind the scenes of your app, making sure your customers recieve high quality photo products they will love.
A picture perfect fit.
Coders + Developers

Developers love us because our SDK and API are simple and easy to integrate.

Creators + Artists

Sell your work on photo products and make money doing it!

Small Businesses

Completely turnkey, single source solution to incorporate a photo product offering.

Enterprise

Scalable and efficient for photo storage providers, social media platforms and more.
Manage Photo
Products

Select the photo products you want to offer

Set Product
Pricing

You set price for each product you want to sell*

Create & Manage
your apps

One dashboard even if you have multiple apps

Access customer
support tools

Get support any time you need it

Sales Reporting
& Tracking

Be in the know of what is selling best

User Management
& Tracking

Set up users and track activity
Sign up to
get started
*The retailer sets the pricing for in-store pickup photo products.
Zero inventory.

You don't have to purchase minimums or inventory product. We do it all for you, so you don't have to. With over 180 quality photo products available, the hardest decision you have to make is setting your price point.

Simple Pricing.

Talking about price points, we made pricing simple. Every product has an established base price. Using the Fujifilm Developer Nework dashboard, you set the selling price for each product. The difference between these two numbers is your profit!
Quality is in the details.
Real
Wood

Textured
Canvas

Quality
Fabrics

Precise
Edges

Perfect
Alignment

Durable
Construction

Sturdy
Aluminum

Premium
Accents
Explore Photo Products